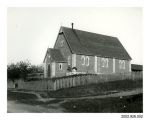 1864 - 2011 (~ 147 years)
Name

Conestogo United Church See Conestogo Wesleyan Methodist Church

Conestogo

Nickname

2

Born

congregation began 1864
Conestogo, Waterloo Region, Ontario

Gender

Unknown

Died

still in existence 2011

Person ID

I722
Properties

Last Modified

6 Dec 2011






Photos

Conestogo Methodist Church about 1910
A black and white print showing the exterior of the Conestogo Methodist/United Church. The church appears to be red brick, with yellow brick trim. Fleur-de-lis trim along the roof edges (similar to that on the Wellesley Post Office at DHC). Three pairs of small Gothic windows are along the side wall(s), with other small Gothic windows on the front side. A ladder on the slope of the roof leads to a small metal chimney. The church is surrounded by a wood picket fence, gravel walk and roadways. There appears to be a drive shed at the rear of the church. No date is on the print (probably circa 1910).