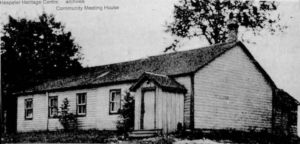 Cal 1792 - 1877 (~ 85 years)
Loading...
Hespeler Community Meeting House
Built by Michael Bergey in the 1840s, the Community Meeting House on Cooper St served as the hub of New Hope. Most early church congregations met here; as well it was used for weddings, Temperance Meetings, social clubs, dances and anniversary parties. Torn down in the late 1940s, the 100 year old lumber was sold to become a house on Henderson St. still standing today.